I've been able to discover the history/pedigree of the car since my initial post. I've been a gear head for 38 of my 50 years but since I'm not familiar with these cars I could use some assistance.
The car is registered as a 1995 Dax Rush, made by D.J. Sports Cars International. It has a 1975 3.8 (231 cu. in.) V6 w/ 4BBL Kenne-Bell intake, square-bore Holly double pumper, HEI distributor, long tube headers w/ side pipes in chrome and is backed by a TH200-R4 into a Ford Sierra IRS. It has four wheel disk brakes w/ 16" wheels. My Cousin was the second owner. I got some of the information above from the original owner who purchased/assembled the kit and sourced the initial donor parts, the rest from eye-balling the car.
The car was apparently involved in a minor parking lot incident several months prior to his passing and he was in the process of repairing it at the time of his death. His brother who was the executor of his estate (and who has little mechanical knowledge or free time) was going to have it hauled to the scrap yard so he could easily conclude the business of closing the estate. Knowing that my departed Cousin would be rolling in his grave over this, I volunteered to pick the vehicle up and see to it that something better was done with it.
So now I'm the proud owner of a Dax Rush and don't know what to do with it. I've toyed with the idea of repairing it and keeping it which I believe would be in keeping with my departed Cousins wishes. I've also considered trying to find someone who would be interested in doing the same which I also believe he wouldn't mind.
It suffered front frame damage in the accident which appears to be confined mostly to the nose cone portion of the space frame forward of the wishbone mounts. The nose cone was slightly damaged along with one of the bicycle wheel fenders but they both appear to be repairable with a little glass work. The wishbones look straight but I haven't seen the uprights or coil-overs yet as they are in a separate storage facility along with the radiator which was apparently damaged. The glass body work along the passenger side lower wishbone mounts is slightly buckled leading me to believe there is some more frame damage there. Both driver side wheels are slightly damaged as well.
Here's a picture of it from the original owner.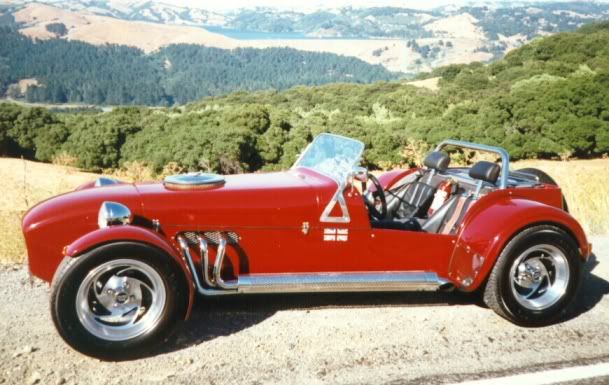 Here's a link to more pictures of it as it sits now including some showing the damage. You'll have to excuse some of the junk that was put on the car; my Cousin was known to be a bit eccentric in his tastes.
I'm not sure exactly what happened in the accident but it appears as though the driver side lower frame rail impacted something leading to the frame/nose cone/radiator/fender damage and the wheel damage was a result of curbing.
Sorry for the long drawn out story!
Anybody have any input on what the heck I should do? Is this thing worth resurrecting by someone like me (I've been a motor cycle enthusiast, bracket racer/muscle car owner and Jeeper) who has welding/fabrication equipment and experience but no knowledge of these cars or should I get it into the hands of someone who knows more and move on?
Thanks in advance for your time and advice!
Sincerely,
Bob Clark