Well I finally had a chance to corner balance, align the 7, and fiddled with the suspension to my liking after Magnus generously lent me his scales and tools. It was fairly straight forward as I took my time, leveled the scales with a laser, R888 tires set at 17psi front & 19psi rear, and added 160lbs to the driver seat in rice bags with 1/2 tank of gas. Here are my initial readings:
I was hoping to hit the 1200lbs mark without me, but it hit 1240lbs with no driver. It is a SLR with tillet seats, no heater, no doors or any weather equipment, no spare tire or mount, FIA rollbar, 4lb battery, 2L Zetec SVT, 6 speed, CF wings and cone, and glass windscreen. Now where else can I remove weight?
I know the rear camber and toe aren't adjustable without the correct "ears" but does this look normal as the rear right toe is a bit off? With my other cars, on the rears I usually liked a little more negative camber (~2آ°) and about 1-1.5mm of toe in per side for stability.
I evened out the caster so I moved the shims on the left front to achieve a more even left-right. The rear bolt on the front lower control arm was PITA to get to. The right front camber was also adjusted, toe zeroed and after playing around with the ride heights, this was the result: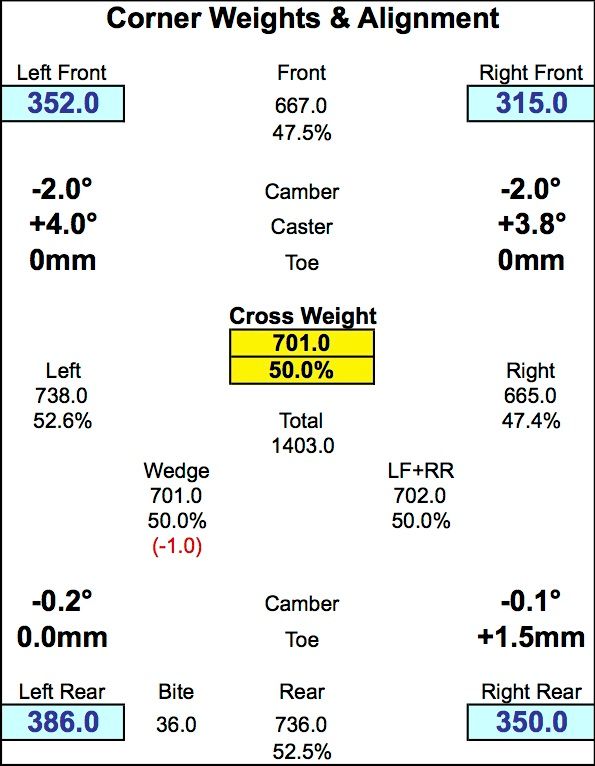 My final ride height came out to be about 135mm front, 150mm rear. I also moved the rear ARB from stiffest 4 to to 2nd softest at 2 as suggested by a few guys, set both rebound and high compression on a fairly soft street setting with low compression slightly firmer. After a few hours of driving around in the twisties, a few clicks firmer on the low compression and softer on high, I think I have a good baseline for the track/autox as now it feels very well balanced.