After 6 glorious years of Seven ownership I am looking for a new owner to care for my 02 WCM Ultralite. The car is in great condition and is for sale only because I no longer have enough time to track it as frequently as I used to. This makes it the perfect opportunity for you to pick up a very fast, well sorted and most importantly reliable track car that is both 100% street legal and comfortable enough to be driven on the street.
The base specs of the WCM Ultralite are:
1400 lbs
240 hp Honda S2000 motor (F22C)
S2000 gearbox
Subaru differential
Wilwood brakes
0-60: 3.5 sec (traction limited)
Fully adjustable independent suspension (camber, caster, toe)
Adjustable pedals to fit different drivers
Adjustable shocks
Over the years I have made several significant improvements to car to make it both safer and more reliable as a track car. The following are just some of the things I have done:
Roll Cage by TC Design
Fuel Safe fuel cell
OMP Pista HALO race seat with Schroth 6-point pull-up belts
Brake bias valve
Lithium battery
Differential brace for track duty
Rota Wheels with Nitto NT01 R-compound tires
Steel braided fuel lines
Custom Hushpower exhaust
Lotus Elise air intake
While this list may appear very track focussed, they have also been made with an eye to keeping the car usable on the street. I have ~10,000 street miles on the car including a
2000 mile road trip to Seattle
for the 2013 West Coast Lotus Meet
Additional spares/items included with the car
Spare differential
Adjustable shocks (softer than current)
SDS EM3 tuner
lightweight trailer
Included in the package is this lightweight custom trailer that specifically fits the Ultralite. With just an 11 foot bed and weighing an around 600 lbs, this trailer is the easiest way to get the Ultralite to events that are further away. With a combined weight for car + trailer of less that 2200 lbs, this trailer can be towed by most sedans and will not need a trailer brake controller or a 7-pin connector.
The Ultralite is also fantastic fun at autocross and is usually the fastest street driven car at most events. The video below is from me winning the top time of the day at the 2013 WCLM autocross. You can see some more videos on more open autocross courses
here
,
here
and
here
.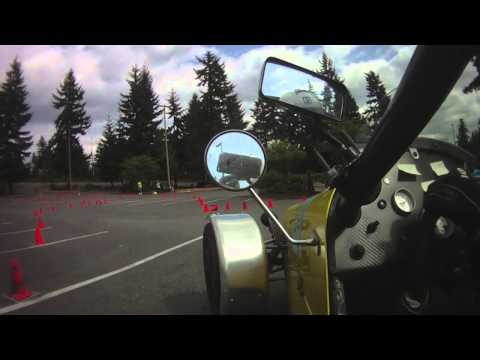 Location:
Daly City, CA
Current mileage:
15,575
(will increase as I am still driving it)
Price:
$27,000
(includes trailer and spares)
Clear title in hand (registered via CA SB-100)
High resolution current photos of the car are available at
https://www.flickr.com/photos/rnair/...57656702113661
Click here
for some video from a recent (July 6th) track day at Thunderhill West. This was its first track day in almost a year and it did not need any maintenance beyond a fluids and pressures check. Once at the track it did over a hundred miles in 100 degree weather with zero issues. Excuse the bad lines as it was my first day on Thunderhill West.
For more information about the car you can find my
extensive blog posts
about the ownership experience or look at my
Flickr account
for hundreds of pictures from the last five years. Please contact me via PM if you are interested or would like any more information