Edit - car is sold as of 4-18-2010
For various reasons, it's time to sell my Birkin: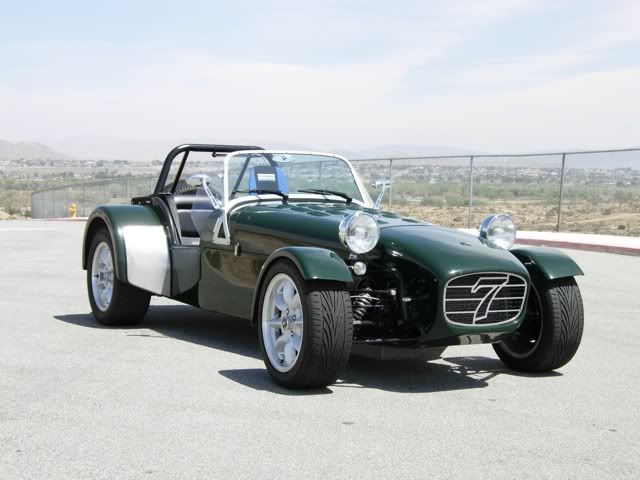 Many more pictures can be seen here:
It was built for the original owner by Woody of MSI Motorsports, the first US Birkin importer, in 2004. I bought it in 2005 with less than 2000 miles. It currently has 17,100 miles on the odometer. Best of all, for potential California buyers, the car has the desireable SB100 sticker so no smog checks ever. It is titled and registered as a 1964 Lotus S3.
The engine is a fuel injected Zetec ZX3 controlled by a Pectel T2 ecu. Mild performance mods include a Fidanza light flywheel and a larger than stock FocusSport throttle body. The car was dyno tuned last year and shows 133 horsepower and 146 lbft of torque at the wheels, add about 15% to get crank equivalents. Has a Quaife lsd and a semi-close ratio gearbox.
Some of the things I've done since I bought the car:
Installed a set of Woody's driveshaft safety hoops.
Installed a set of Woody's heim-joint rear control arms which made a huge improvement in ride quality.
Installed Woody's sump guard.
Added a Birkin removable steering wheel.
Installed a modified Ultrashield spec-Miata driver's seat which is much more comfortable than the stock Birkin seat. The original seat is included and can be re-installed.
Lowered the driver's side floor about 2 1/2 inches so you actually look through the center of the windshield now instead of the top, which greatly increases visibility while reducing wind buffeting.
Installed a Gustafson planetary gear starter motor. The standard Birkin starter tends to be weak when warm after driving awhile. The Gustafson starter works every time.
Installed a pair of Caterham removable half doors. I also have the original full weather gear (doors and top) which I have never used.
Purchased Dick Brink's "Birkini" top which is great in the summer to keep the sun off your head and it really cuts down on wind buffeting.
Installed a set of billet rearview mirrors which look much better than the stock stuff.
Installed a pair of small LED front turn signal indicators which again looks much better than the stock Birkin units.
Installed a twin-tone air horn which can actually be heard, unlike what came on the car.
Installed a pair of Hella European H4 headlight bulbs, makes a huge difference at night compared to the stock sealed beams.
Added a VDO voltmeter to the instrument panel that exactly matches the rest of the gauges which are also from VDO.
Added a nice custom wood shift knob from Gert's Garage™ which looks much nicer than the stock metal knob which got too hot to touch in the summer.
Made a LED third brake light (from Gert's Garage™ plans) and added an electronic module which flashes the lights 3x when you first apply the brakes, then goes to full on.
Purchased a set of grippy Toyo T1R's, 195/50/15 front and 215/45/15 rear to replace the hard-as-rock Firestones that came with the car. Plenty of tread left.
Recently I replace the front windshield with new glass as the old was getting pitted from road debris.
Added a side extension to the rear-exit tailpipe which greatly reduces the amount of exhaust into the cockpit.
Other things included with the car:
A spare Pectel T2 ECU I purchased on ebay just in case.
A Dell laptop loaded with the necessary Pectel software to program the ECU, if needed.
Connector cord to link the laptop to the ECU.
Brand new, never driven, set of 4 Toyo RA1 performance tires mounted and balanced on brand new Kosei light weight wheels. I meant to use these as a track set of wheels but haven't done a track day since buying them.
Several notebooks worth of Birkin information collected over the years, mainly from the yahoo Birkin Owners web site.
As mentioned above, a full set of all-weather gear and full doors that have never been used.
Five-point Simpson race harness that can be installed for track days if desired. The original two-point retract seatbelt is currently installed.
A tall roll bar I had made for track days so the bar is actually higher than my helmet. It also provides a place to mount the shoulder harness mentioned above.
Custom made full body cloth cover from California Car Covers.
This car is in perfect mechanical condition. I used the car mostly on blats, but I have done approximately 10 track days over the years, usually with NASA. The rear fenders show the typical paint-pits from stuff kicked up by the tires. The right front cycle wing has some cracks in the gelcoat from a bump into a tire wall at Fontana, but the fiberglass itself wasn't damaged. I do have a spare pair of unpainted front cycle wings that are included. On a cold morning it may take a couple tries to get the engine to fire but once going it warms up fine, and it starts easily at normal temperatures. If you offer Magnus some beer and diapers he would probably fine tune the cold start software.
There is probably more I've forgotten but send me a pm or email directly if there are questions (s o a r e y e s (at) a o l . c o m)
Oh yea, price is $22,500 obo. The original owner paid about $35,000 new (I have all the original receipts) and I paid $28,000 five years ago, plus everything I've added.
Stan