With my car definitely needing a corner weight setup, I thought we could make an event out of it and do a bunch of cars during a single day.
Corner weighting, for the ignorant masses out there, means adjusting the spring platforms of the car until you have an even weight on each wheel, or as even as you can get. My car, for example, locks up right front constantly, indicating that right front and left rear are seeing a much lower weight on them than left front and rear left. A good analogy would be a four-legged chair that you adjust the legs on to get rid of wobble.
While doing adjustments, we will setup rake, which is the difference between front and rear ride height, where the rear should be 13mm or so higher than the front.
If we have time, we can also adjust camber and toe-in. I have the necessary tools can get the nylocs that have to be replaced.
The end result is a more predictable and better handling car.
Corner weighting can only be done on a car with adjustable spring platforms such as this: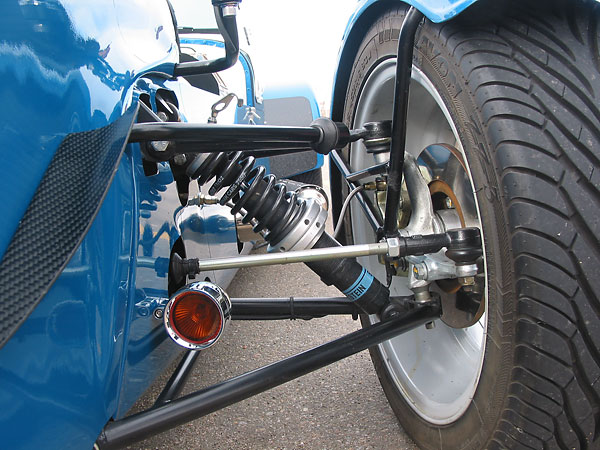 We have access to a flat table through Motivo Engineering's shop, located at the intersection of the 405 and the 110. Doug is currently sitting on the club scales.
Please reply to this thread if you are interested, and indicate which of the weekends below will work best for you:
Weekend Dec 6-7
Weekend Dec 13-14
Weekend Dec 20-21
I need to make sure that the flat table is available during the dates above, but I think it should be ok.
We could also, if we are in a festive mood, bring a bbq, beer and make a social event of it.
What do you think?
/Magnus F.